Yeah, I'm still alive. If you want to read current things from me, you're better off checking
here
or
here
(former = more complete, but lots of other folks writing; latter = slightly incomplete, but just me).
Since the MP3 blog idea died out pretty fast, I figured I'd at least put up this mix I did for the NDA/Donewaiting We Hate Mixtapes Club. I could always be persuaded to make a series of mixes for this page, so if you download this from here and would like to see more, please let me know! Thanks for reading.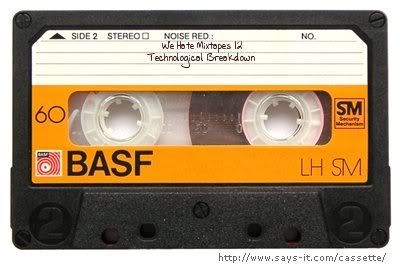 We Hate Mixtapes 12: Technological Breakdown
1. My Flows Is Tight - Lord Digga
2. Love and Happiness - Monty Alexander
3. Ijuswannachill - Large Professor
4. Kiss The Sky - Shawn Lee's Ping Pong Orchestra
5. 2001 - Sugarman 3
6. Let A Woman Be A Woman - Dyke & the Blazers
7. Organ Donor - Lefties Soul Connection
8. Guiding Resolution - Poets of Rhythm
9. Night Lights - Time Machine
10. Aht Uh Mi Hed - Shuggie Otis
11. Beautiful Day - Spider Harrison
12. Beat It - Señor Coconut And His Orchestra
There ya have it. Hopefully this mix holds together long enough for you to hear it.
[EDIT] Due to folks having problems with some of the tracks being m4as as opposed to MP3s, when I learned tonight how to easily make MP3s, I redid the m4as. So the new link below is pure MP3 action. LOVE IT MAAAN!
http://www.mediafire.com/?9ztpoebmegv