Even if it takes three days. Things have gone well since we last spoke. I deejayed a campus party on Friday night, like the bigshot I am. Other than some drunken douchebags demanding "rap" and scratching on my records, it went well. Dime-a-dog Night at the Coop on Monday was awesome (obviously), and the free listening parties/screenings at Skully's the last two nights (
Gorillaz
album Mon night,
Common
album AND
Freestyle
DVD Tues) were also rather sweet. Davekwon and I will venture to High Five tonight for the latest
System Link
jam, another "Hook and Sling" funk/soul dance party. Plans are still in development to see
The Fucking Champs/Zombi/Boyjazz
show in Cleveland Friday night, as Twyman is currently in the process of "manning up." Oh shit, almost forgot...
Major Announcement
Once again, a Funky D appearance at the Ravari is
CANCELLED.
It looks like I will not be spinning May 31, as the Ravari booking folk are being shady lately, I guess, and started scheduling bands on Tuesdays instead of maintaining the fine tradition of
Wicked Lung & Wookalar's
Smell the Vinyl
night. We'll see what unravels in the future, and I'll keep you posted.
Hot Damn

On Saturday night, Renkes and I travelled to Cleveland for a rockabilly (sorta) show of epic proportions. It was the release party for
Atomic Horsepower
, the new album from Cleveland's
Capgun Cowboys
. The Cowboys feature Phil Verhoef (on acoustic guitar and trombone), who is a frat brother of ours. Anyhoo, they rocked the Beachland Tavern mightily! Some old jams, and plenty of new jams. They featured a couple of guests, including an attractive "electric fiddle" player from Columbus. Great stuff. Before and after their set,
The Pussyfoot Girls
, a burlesque troupe from Cleveland, "entertained" by dancing to old rock songs and wearing weird skimpy outfits. The show was officially headlined by rockabilly superstar
Deke Dickerson
and his
Ecco-phonics
. He came in on a mini-bike, which was fucking awesome. They had a bunch of great songs, including a fine anti-vegetarianism tune called "What's That Cookin?," but sadly we had to leave early to get back to Bustown. Phil is moving out to LA very soon to become a doctor of some sort, so we're glad we caught him/them while we could.
Finally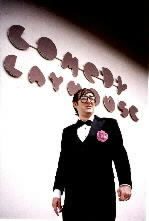 A week ago, Andy, Dave and I caught what is likely to be the funniest live performance all year, anywhere. This, of course, was the fine touring bill of
Neil Hamburger
and
Pleaseeasaur
at Bernies. Wow. For an awesome writeup, please read Andy's account
here.
I will simply tell you that these two performers were both hilarious. I first heard of Neil Hamburger about 4 years ago, so this show was a long time coming (Chops and I thought about a Cleveland show last year, but it was too much). Oh yeah, Chops should have been there. FUCK OSU! Anyway, Neil did not disappoint. I had heard some of the jokes before, but seeing them in person more than made up for that. And Pleaseeasaur was just crazy. Lotsa costume changes, funny slides (what the hell is purling, anyway?), and wacky stage presence. Quote of the night: "Actually, I'm
Michael W. Smith
, and this song is called 'I Hate Dog Shit.'" Wow. Check out both of these acts sometime.
Well, successfully updated again. I'm contemplating buying a new computer, which would facilitate more consistent updating, so if any loyal fans wanna contribute financially to this effort, HOLLA AT A PLAYA!!! Also, for future planning, June 11th may end up being the rockinest day in the annals of rock, so be prepared. Still working on making this site more entertaining (and comment-inducing), so hold your heads!